IYah-gift … musical creations are an amalgam of black music at its finest, a unique genre … different but familiar at the same time.
A talented songwriter and producer, IYah-Gift operates his own studio in Kingston, Jamaica; where he is the founder and C.E.O. of the One Hart Music production company. Gift has produced songs for himself and other artists including, Rasta Zilion, Pampi Judah, Culture Dan, K-Lyrikal, Calice Earth, Toppa Bling, Skippa, Arsenal, Andrew Blood, Illmatic, YMG, Heru, Lion Cub, and Israel Voice to name a few. Artists have been known to enjoy working with him, because the originality and diversity that are characteristic of his beats allowing singers and songwriters freedom of creativity. IYah-gift's musical creations are an amalgam of black music at its finest, a unique genre that is different but "feels" familiar at the same time. With his original style being a fusion of the music of the African diaspora, IYah-gift's unique flavour echoes traces of reggae, traditional African rhythms and hip hop, to create a mind blowing synthesis of sound. Born in West Africa to a Jamaican father and a Nigerian mother, IYah-gift's love for creating music was first influenced by the artists his parents loved, including Fela Kuti, Bob Marley, and Louis Armstrong. After moving to Jamaica at age 10 and then to the United States at 16, he grew to appreciate artists like Sizzla, Lauryn Hill, and the Wu-Tang Clan.
————————————————————————————–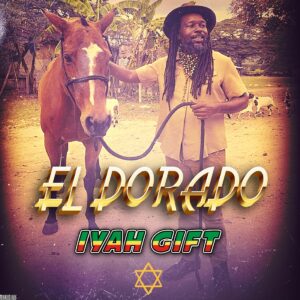 What 1st drew you to music?
My big brothers would play music almost every morning and sometimes the whole family would do a little dance to start the day.
Tell us a little bit about yourself. Your (music) background?
I started of writing poetry in high school. I always had a love for drums and percussion instruments. In university I became part of a music group called the amphbns and I did my first recordings with them.
May I ask how you arrived at your artist's name?
The name IYah-gift comes from the meaning of my African name OluSeun which means gods gift.
Do you write your own music, or do you collaborate?
I do write all of my lyrics and I often collaborate with other musicians to complete the music.
Do you have a preferred genre?
Reggae, Hiphop and Afrobeat.
Tells us about your song "El Dorado" … what inspired it?
I recently moved to Harbour view in Kingston, Jamaica and the road I live on, Dorado drive reminded me of the legend of "El Dorado". The Producer, Supanova sent me an instrumental with a western theme and the concept of the real El Dorado was born.
What is the best song you ever released and why?
I would say "Fly Een" because of the amount of global feedback I received from it. I am happy to have written a song ppl enjoy that is also educational about an actual historic event. "Blazing Fyah" ft Kabaka Pyramid (recent Grammy Award Winner) and "Can't stay away" ft Dre Island are also some of my favourite releases.
Do you, or would you like to, perform live?
Yes I love to perform live and share my expression for a live audience.
Which of your songs is, or do you think would be, fun to perform live?
"El Dorado" is lots of fun to perform on stage, the audience can easily catch on to the chorus and sing along.
Do you create music for yourself or for fans?
I would say both, I probably am thinking about the fans when writing however I often learn from my own music when I listen to it.
What song do fans seem to favor?
Fans do like "She's the One" ft Makonnen Blake Hannah aka SpaceAgeRasta. It is a love song with live guitar that ppl like to dance to.
Has your musical journey had a deliberate direction, or did it simply evolve in whatever direction it found?
I would say it evolved in a suitable environment with my Rastafari community as a guide to keep my music positive.
Share a funny moment or positive experience that has happened during your career.
Meeting Lee Scratch Perry and having a discussion with him Is one of the best experiences I have had as a musician.
What music do you listen to?
I listen to variety of music definately alot of Reggae and Afrobeat. Hiphop and R&B when I catch that vibe and I like Jazz.
Would you like to travel to other countries to perform your music? If so, what would be your first stop?
Nigeria because I have family there I would love to perform for.
What would you be doing right now if it wasn't for your music career?
I also make natural fruit and vegetable juices so I probably would be doing more of that.
How do you feel the Internet has impacted the music business?
I really loved the days of printing my CD's and fans could by them directly from me. However the abilty share my music with the entire globe so rapidly is also great. The quantity of music has increased so I strive to stand out with quality.
What is your favorite/best outlet to connect with your followers Instagram, Spotify, FB, Twitter, iTunes? How would you want them to follow?
Very easy to connect with me on instagram and stay up to date with my music on spotify.
Are you currently working on any projects we should look out for?
Lookout for the "El Dorado" ep
Is there something you would like to say, that I didn't cover?
Give thanks to the creator for life health and strength. Give thanks to my family and my whole musical team. One Love